IS TV'S MOST STYLISH SERIES
COSTUME
DESIGNERS
CRISTINA SPIRIDAKIS
& COURTNEY WHEELER
are behind the coolest outfits on your TV right now.
Spirdakis, pilot CD, and Wheeler, CD for episodes 2-8, have done six shows together and seem to have the most fun making the magic you see on screen possible. The pair from FX's breakout series

The Bear

sat down with Seek to break down your favorite culinary characters, their experiences in the industry, as well as advice for aspiring creatives.
Read on for the inside story on Carmy's white tees, Sydney's bandanas, Richie's track pants, and the

Game of Thrones

tip that inspired the *actual* bear.
as told to Sara Klausing 08-19-2022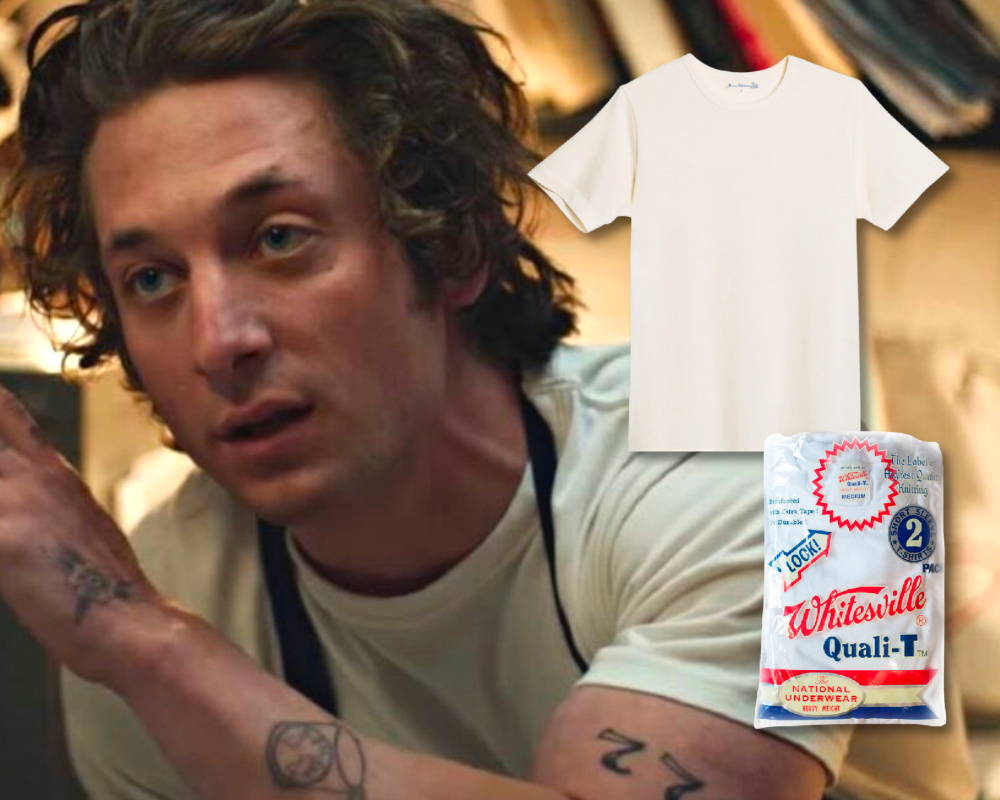 Spiridakis: We didn't realize the Reddits and sub-Reddits people arguing about who made these t-shirts. Merz b. Schwanen told me it's the 215. It fits him perfectly. It's a beautifully crafted t-shirt. The actual t-shirt itself, the brand, is something I believe Carmy would buy himself. He's into quality that lasts. Heritage brands. It speaks to the chef he is and the person he is.
Wheeler: Here's the thing. They know it's Merz, but think the other t-shirt is Velva Sheen. The other t-shirt is not Velva Sheen. It is Whitesville. I think Carmy appreciates the history of the restaurant. Given his background as this chef at the best restaurants, he knows that it takes quality and it takes presentation. Even though he doesn't like to think about what he wears in the morning, he knows as long as it's good and as long as it fits him well, he'll just put it on his body and just go into work. His brain is basically in the kitchen at all times.
Seek: Everyone is obsessed with these shirts and trying to dress like a chef this summer, apparently.
Spiridakis: I am going to pee in my pants if I walk around New York City and there's just dudes in white t-shirts and Carhartt WIP pants. We had been in Chicago for three or four weeks when we realized that the coolest people were the waitstaff at restaurants.
Spiridakis: The coat that Carmy wears and everybody loves in the pilot was a reshoot when Courtney took over the project. It's from NN07.
Seek: Where did you source it from?
Wheeler: Bloomingdale's in Chicago. We don't usually go for the bigger stores. We were searching everywhere for interesting coats and also to show that Carmy hadn't lived in Chicago for a while. So, maybe his style would be a bit different. Jeremy gravitated towards it.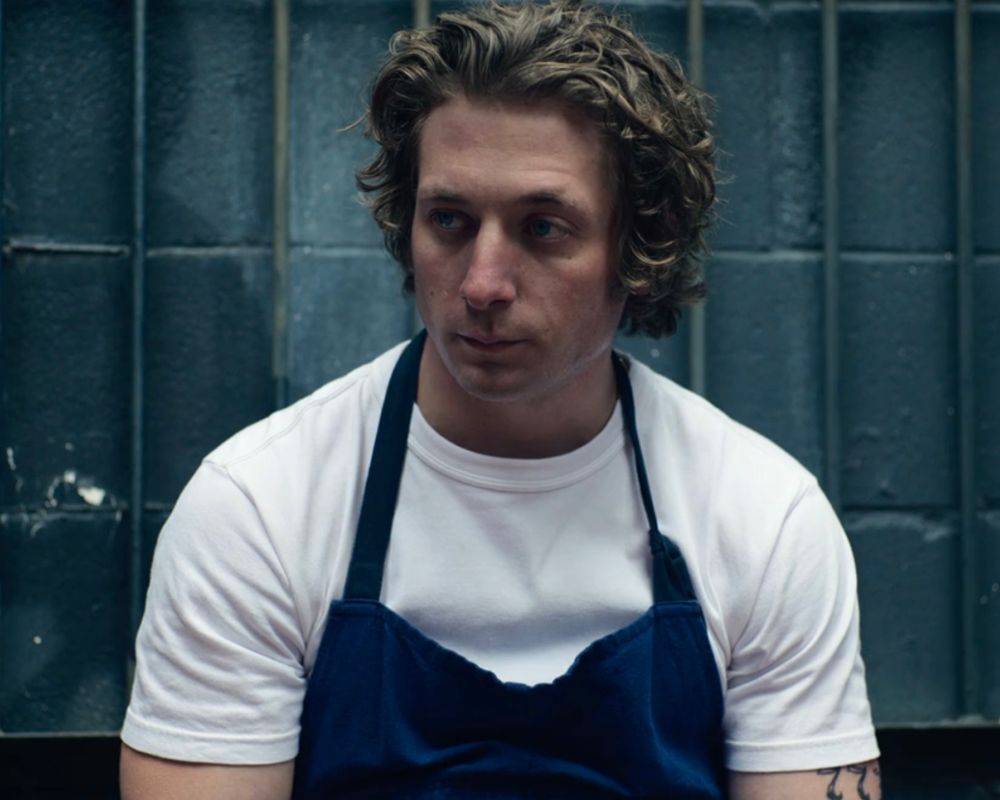 Spiridakis: Episode 7 is one take. They didn't cut.
Wheeler: Everything that's in the kitchen is all a twenty minute, nonstop shot. It's wild how fast they nailed that. I loved being on set for that.
Spiridakis: Can one of our specific shoutouts be to Laura Roeper, our prop master on The Bear? All of that food. Food is props. People don't realize that. Roeper is a legend.
Wheeler: She's a true G.
Spiridakis: She's very special and talented. All of that vintage denim in the pilot that Carmy didn't wear. That's prop.

Wheeler: If it's not on their bodies, we don't touch it. It's props. Roeper handled wrangling all of that good, good denim.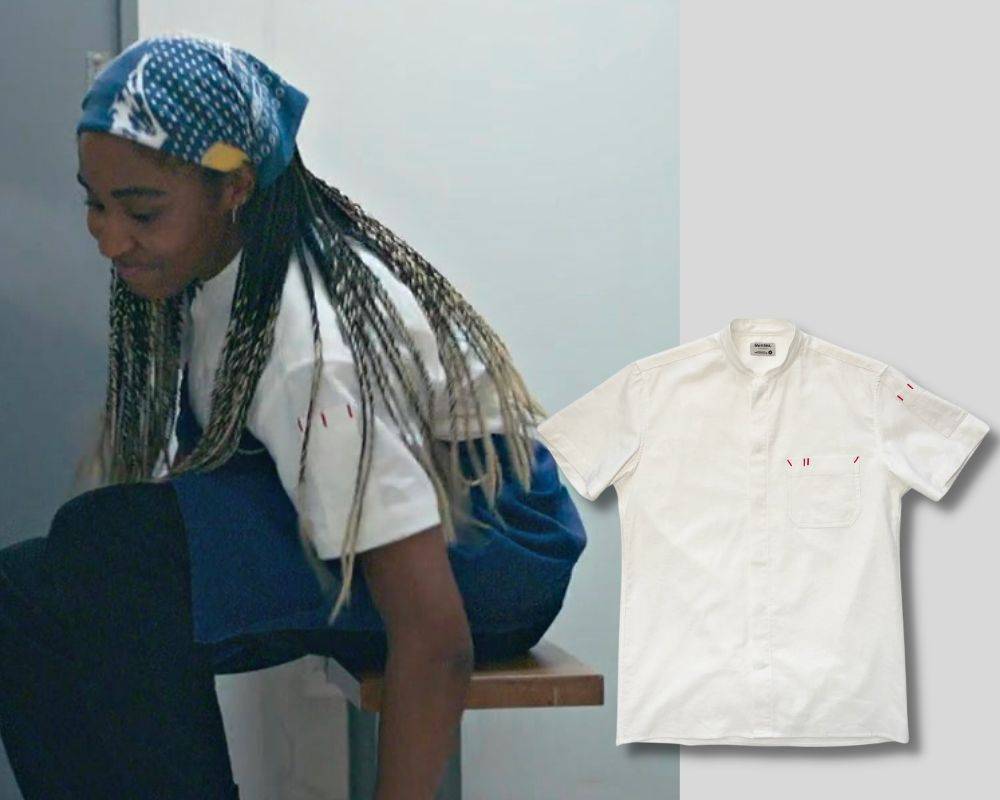 Image courtesy of Hulu and White Bark.
Wheeler: Sydney's shirts for work are a little bit of a mix. She has the Thom Browne. She wore a company called White Bark that actually does chef's whites that do a more interesting style. We took a Madewell shirt and embroidered the collar and changed the buttons. Nikki Chasin – that's actually one of my favorite shirts on her because it fits so well! It has this tiny collar and it fits her perfectly and makes her look so profesh.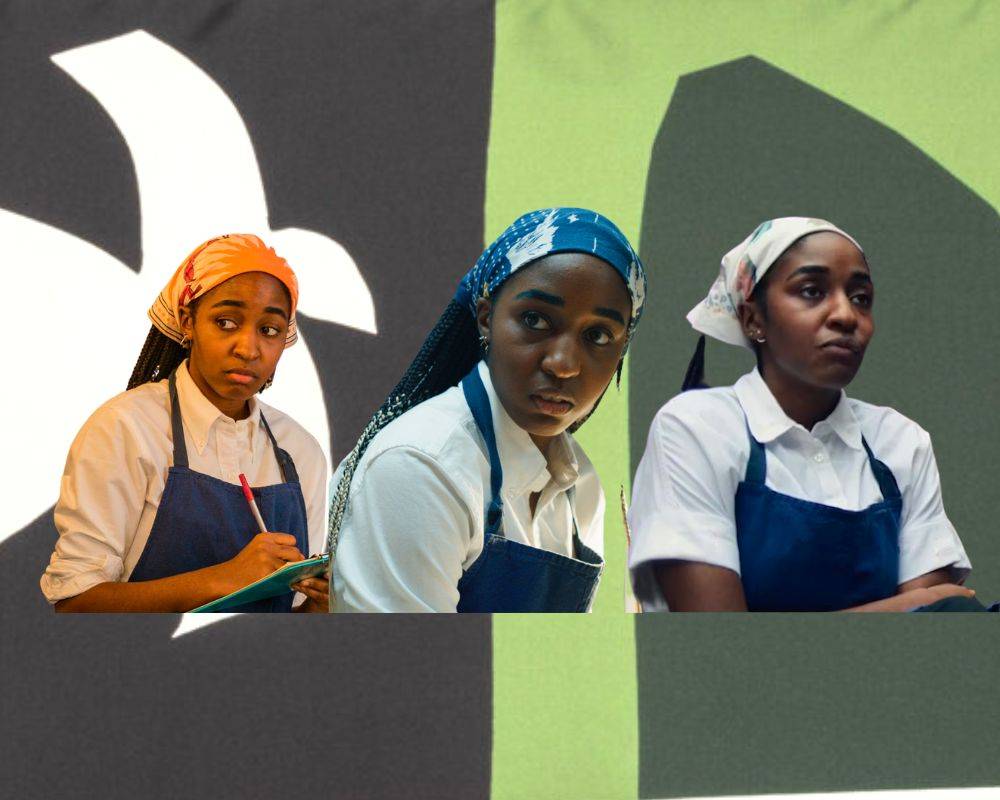 THE
bandanas
Spiridakis: Ayo (Edebri) was involved with those choices – Courtney and I are not the type of designers to tell actors what they're wearing. It's very collaborative. We want them to feel good and we want their feedback. That came from a very adorable store in Chicago called Gemini and opened the door to bandana design.
Wheeler: They came from this menswear store Independence in Chicago – some stuff from Carmy came from there too. Knee Deep,
our vintage store in Chicago. Some of the bandanas were vintage. One was Kapital. One was from an outdoor shop. They came from literally everywhere. Here's the thing about costumes: it's all about the hunt. I loved finding bandanas and being like, "Oh! That's a Sydney bandana" and grabbing it. It's a mix of small shops and thrift.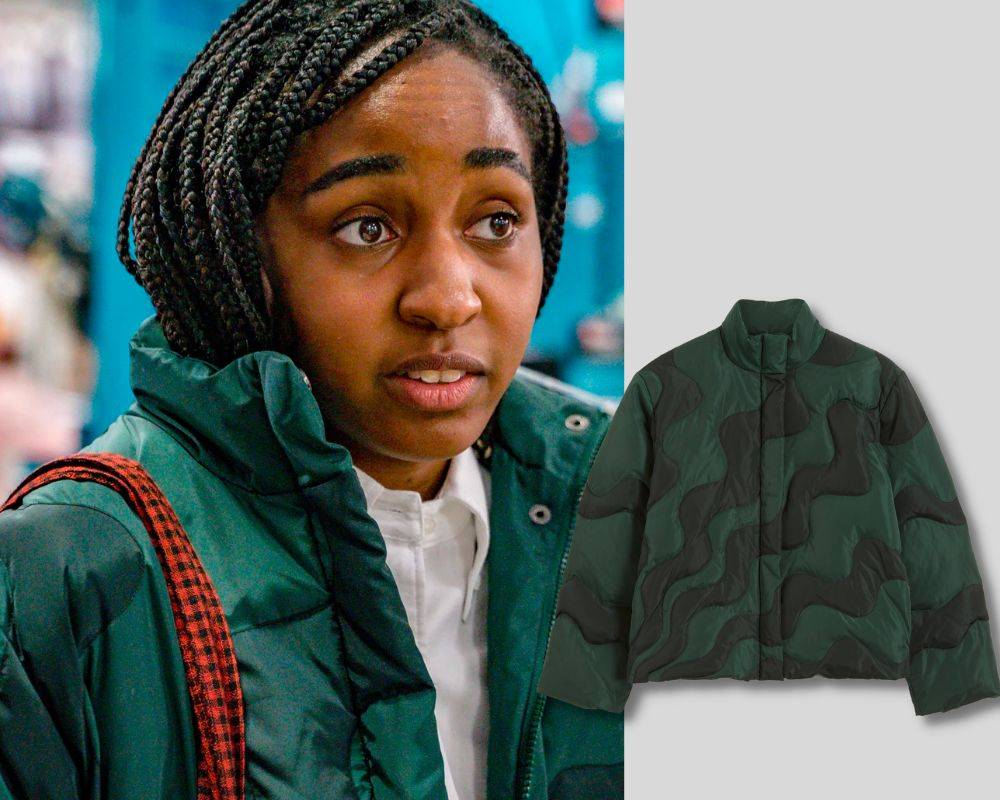 Images courtesy of Hulu and Paloma Wool.
PUFFERS
& PANTS
Wheeler:
The pilot pants are Derek Lam – I feel like she was dressed to impress. Then her pants were a mix of Loup and this other company I love, Still Here. Her jacket is from Paloma Wool.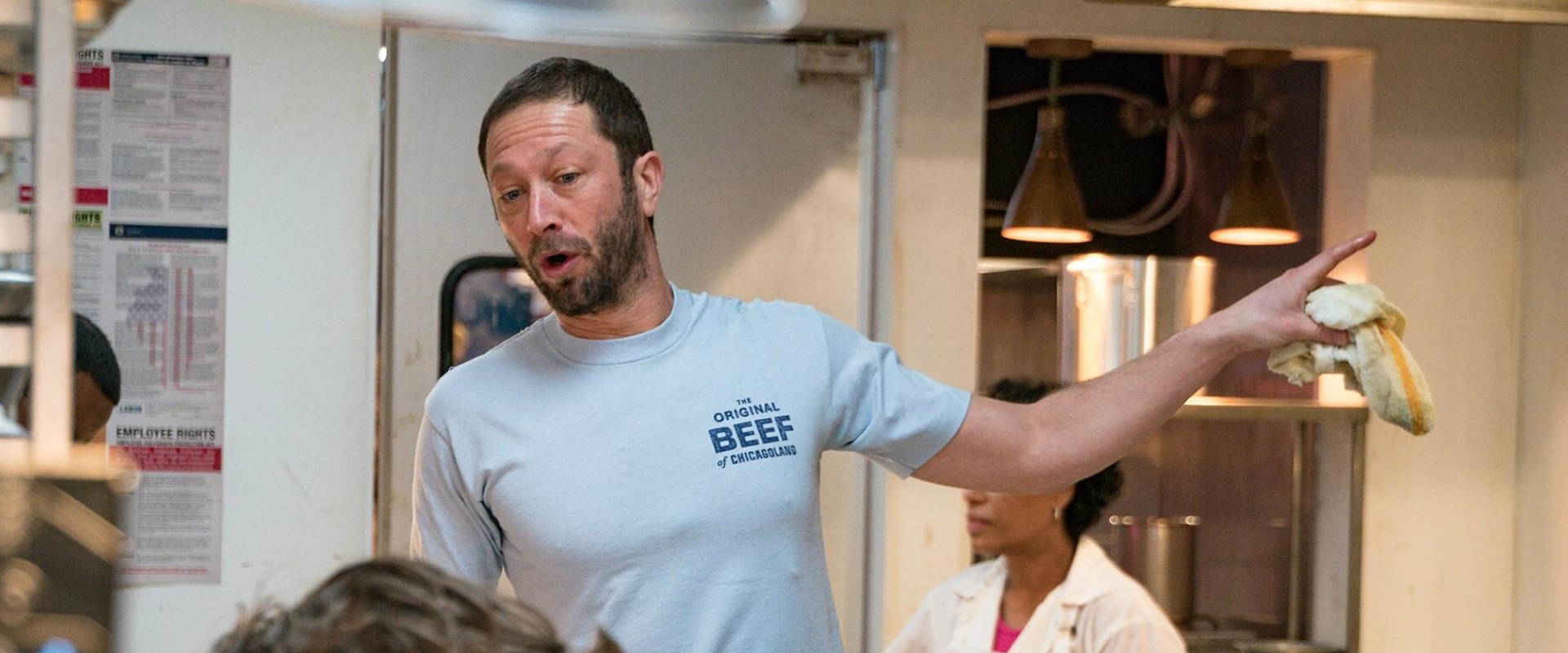 Spiridakis: My first conversation with Ebon, during prep for the pilot, was before we even went to Chicago and it was so wonderful. We discussed that Richie is nostalgic and territorial. Courtney and I had already talked about the fact that he's of course going to be wearing The Beef t-shirts. He's the free t-shirt guy – Richie only wears t-shirts from where he works and he has a million of them.
Wheeler: He is so proud of it. Just like when Carmy's like, "You're not even Italian." Richie says, "I'm more Italian than that guy." He wants to be a part of that family so bad. A little bit of arrested development in that he's been wearing the same thing since high school.
Richie's hoodie and some of his t-shirts were deadstock that we screen printed because we needed it to look aged and old. Knee Deep, our vintage store in Chicago and our guy Carlos – had multiples.
Cristina: He's a national treasure.
NOT ALL
TRACK PANTS
ARE CREATED EQUAL
Wheeler: We are obsessed with those track pants. It can't be the jogger. It has to be a straight leg track pant. It has to be a certain material. When we say it comes from where it comes from, we found that pilot track pant at Lacoste. Literally going up the Water Tower.
Spiridakis: And then we both looked down at the window of Lacoste. Track pants! I think we took those off of the mannequin as well. Not all track pants are created equal. Those are ultimately the ones that Evan wore in the pilot with the Adidas high tops.
Image courtesy of Crisitina Spiridakis.
Spiridakis: We're sitting in Ebon's trailer and he has on the t-shirt, the track pant, the Adidas, and the necklace. Everyone is just staring at the outfit. Ebon is like, "Do I need these? I don't think I need these." The velcro things on the ankle. "Nope." We go everywhere with scissors because I will cut anything. When you have so little to tell a story with, that's part of the story. When you sent me the first photo - the day that you established him in the Members Only jacket. We were talking about it, "What kind of outerwear does this man wear?" And he says, "Maybe it's just a weird leather jacket?" And weeks later she sends me this picture and I wrote her back like, "Well this is the most f**king perfect thing ever."
Wheeler: Ebon saw it, put it on and goes, "This is the jacket." It's vintage.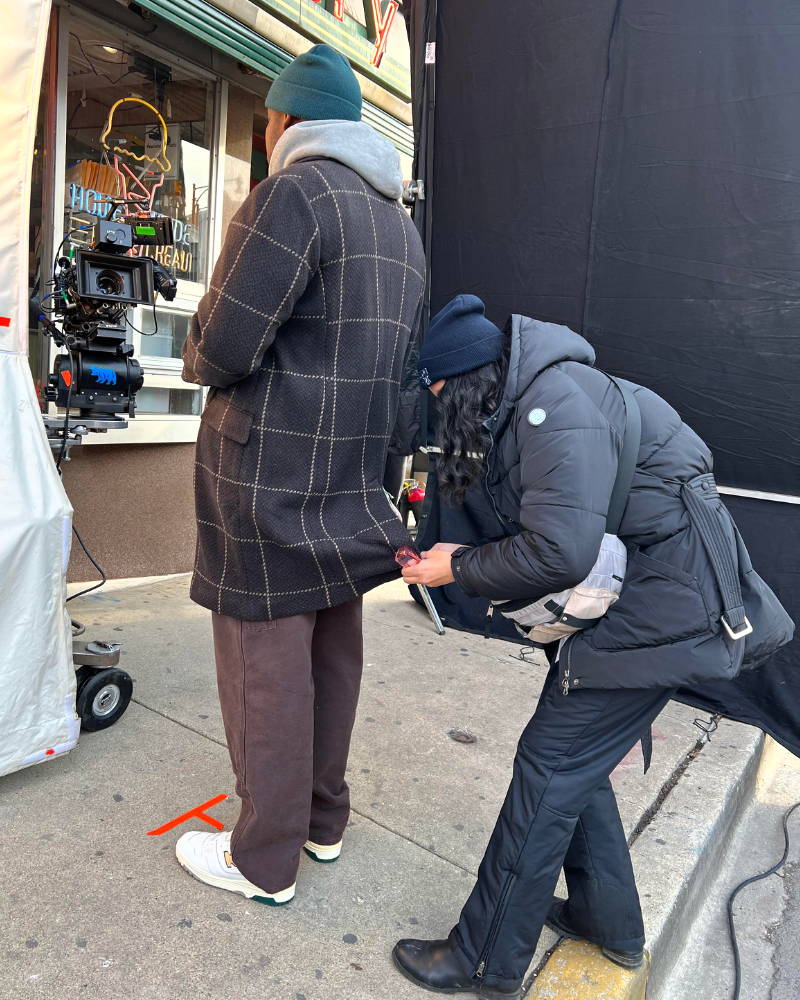 Image courtesy of Courtney Wheeler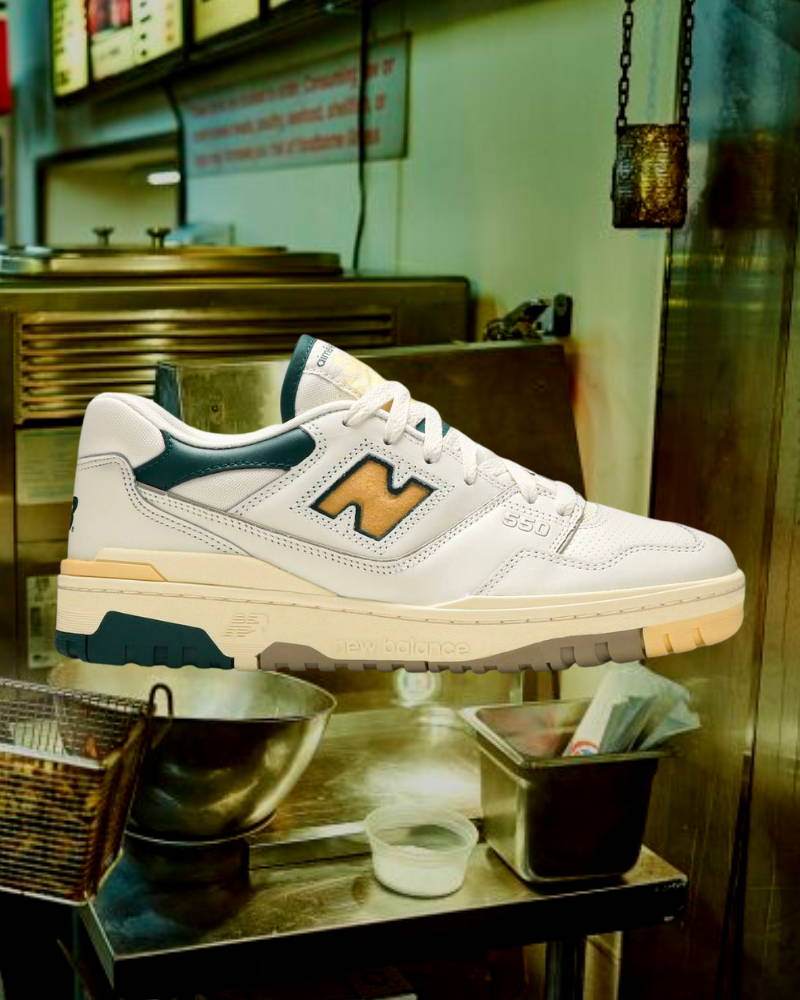 Images courtesy of New Balance and Hulu

Image courtesy of Cristina Spiridakis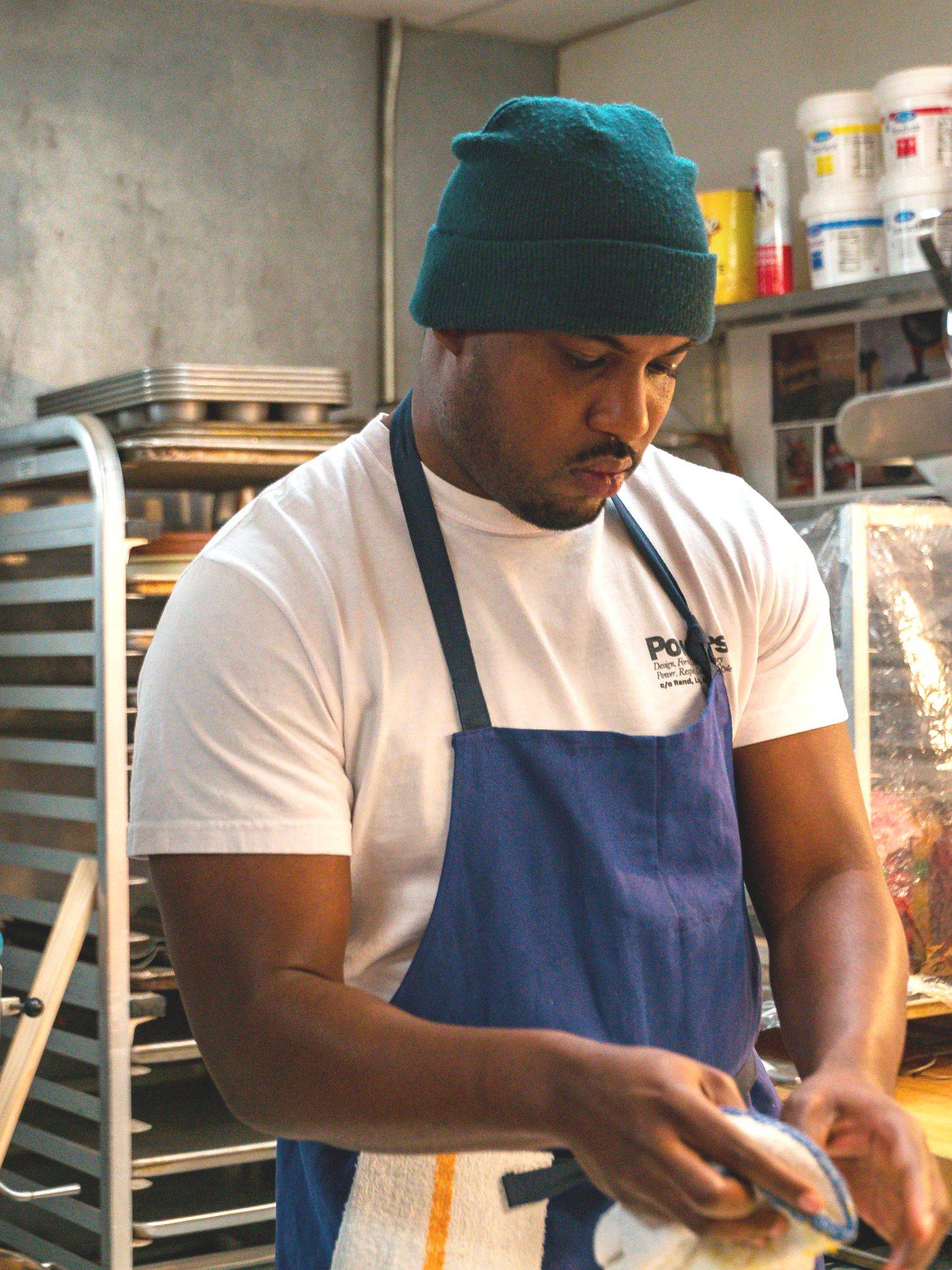 Seek: Tell us more about your journey with kitchen footwear.
Wheeler: The Beef is based on Cris' childhood buddy's family, Mr. Beef in Chicago. And we got to be like, okay, what are they wearing day to day? What's the vibe? And you can see the difference between that world and the world that Carmy and Sydney are coming from. Sydney comes in and changes her footwear. Maybe if Carmy's rushing out and he's not thinking about it, like when Richie gets arrested or something like that. Other than that, they're not leaving the establishment with their kitchen shoes.
Spiridakis: We wanted to know what else was happening in there. Does anybody wear jewelry? As much as we love jewelry, you have to be careful. You're cooking. There's things that you have to be aware of. It was really important to us to use shoes that people would wear in the kitchen. When we went to Mr. Beef, one guy had on Adidas shell toes and somebody else had a generic black kitchen sneaker. The world of kitchen footwear is vast, by the way.
Wheeler: Marcus wore a different shoe for the pilot than he did for the series because in between the pilot and filming, Lionel (Boyce) went to Copenhagen to learn from a pastry chef there. It's so believable that Marcus would wear these beat up Jordans. That's how his t-shirts are too. He might have an Off-White. He might have a Ghetto Gastro. It's a mix of Chicago, Black owned streetwear, cool kid. Of course, we've got the Aimé in there. He's beat them up already. Now he can wear them to the restaurant.
Seek: People are asking about Carmy's necklace.
Spiridakis: The original necklace was a very fine gold figaro chain that Jeremy Allen White himself wore personally that he loved and wanted to bring into Carmy's costume. It was his everyday wear that we just replicated for the production.
Wheeler: It was all about going to that mall kiosk.
Spiridakis: Abby Elliott's necklaces are from Pandora. I have never walked into Pandora in my life. When I had my call with Abby, we decided that Sugar was really into dolphins and turtles. Somebody was like, Sugar and I wear the same necklaces? And it's this sixteen-year-old goth girl wearing the exact same dolphin necklace as Abby. You go anywhere and everywhere.
Wheeler: Depending on what we're doing, there are jewelers in the industry that we would go to. Sydney's jewelry is a mix of this store in Chicago called Humbolt House that has really good jewelry, as well as Asrai Garden and Catbird. Richie's cross is from Kay's!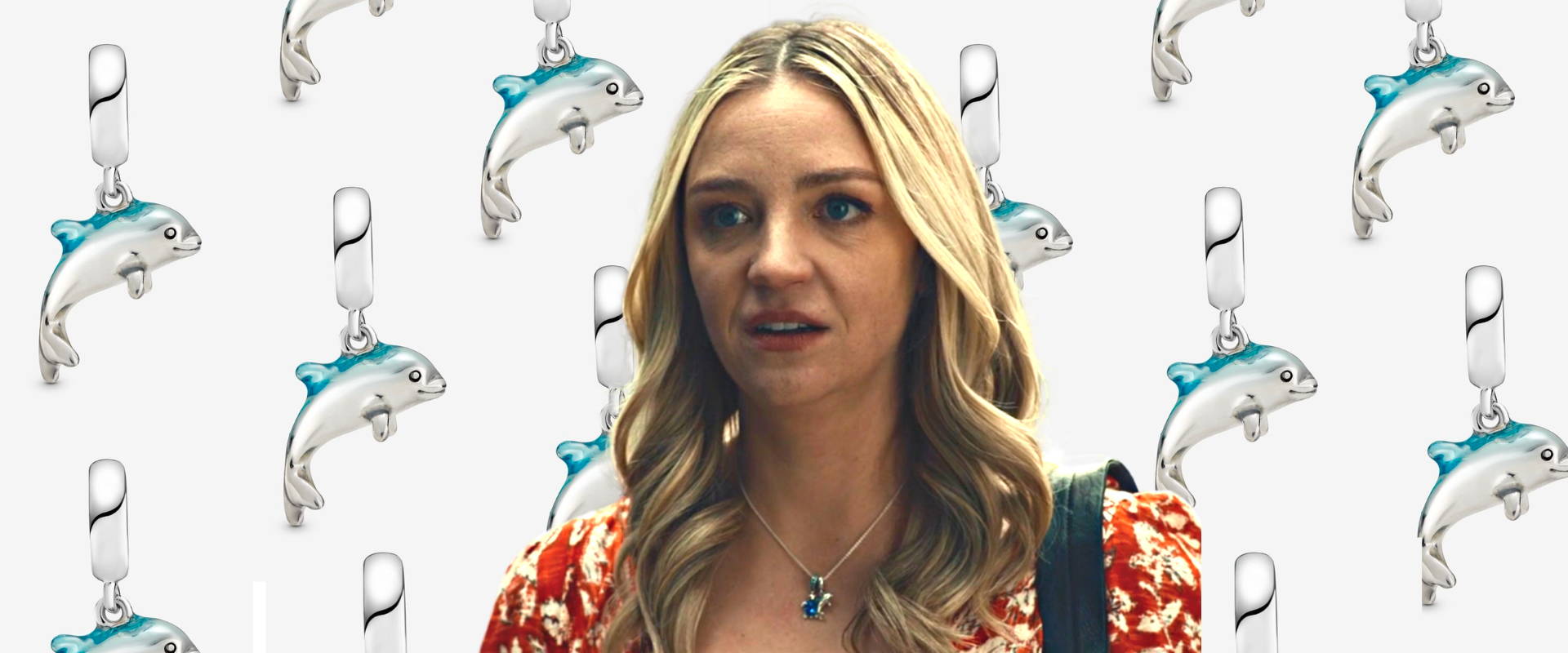 Images courtesy of Hulu and Pandora.
Spiridakis: Rewatch the pilot for fun. This is my favorite moment, when they're doing the Ballbreaker Tournament and Ebon gives his speech. Watch Jeremy, because Jeremy breaks. There wasn't a single take because it was the funniest f**king thing you have ever seen. And then you have those lunatics outside. We made all of those costumes.
Seek: No you did not.
Spiridakis: Crafting is my shit, Sara.
Wheeler: She loves a craft.
Spiridakis: We made all of them. We bought a shitty carrot costume and said to our tailor, "Mariann, make this better." I made that hat. The cyborg – I made that jacket with the heart and I made it light up. The dude in the suit –
Wheeler: My favorite is the dude with a suit!
Spiridakis: We dressed all of those people. The 1980's guy with the Ballbreakers t-shirt. We had to do all of this cool character work and then we got to make nonsense. Rewatch the scene. It was just so funny and so earnest and convincing.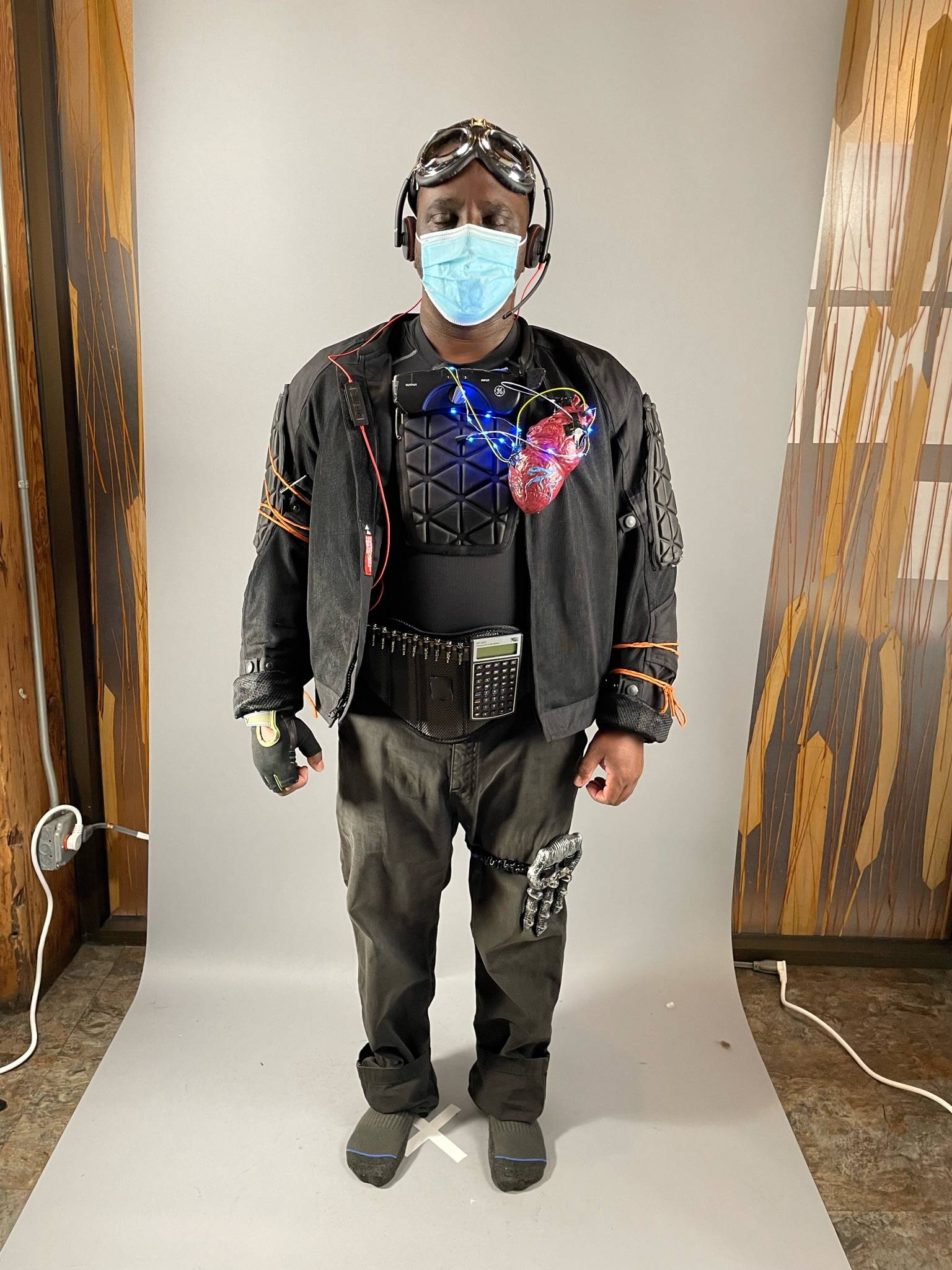 Images courtesy of Cristina Spiridakis.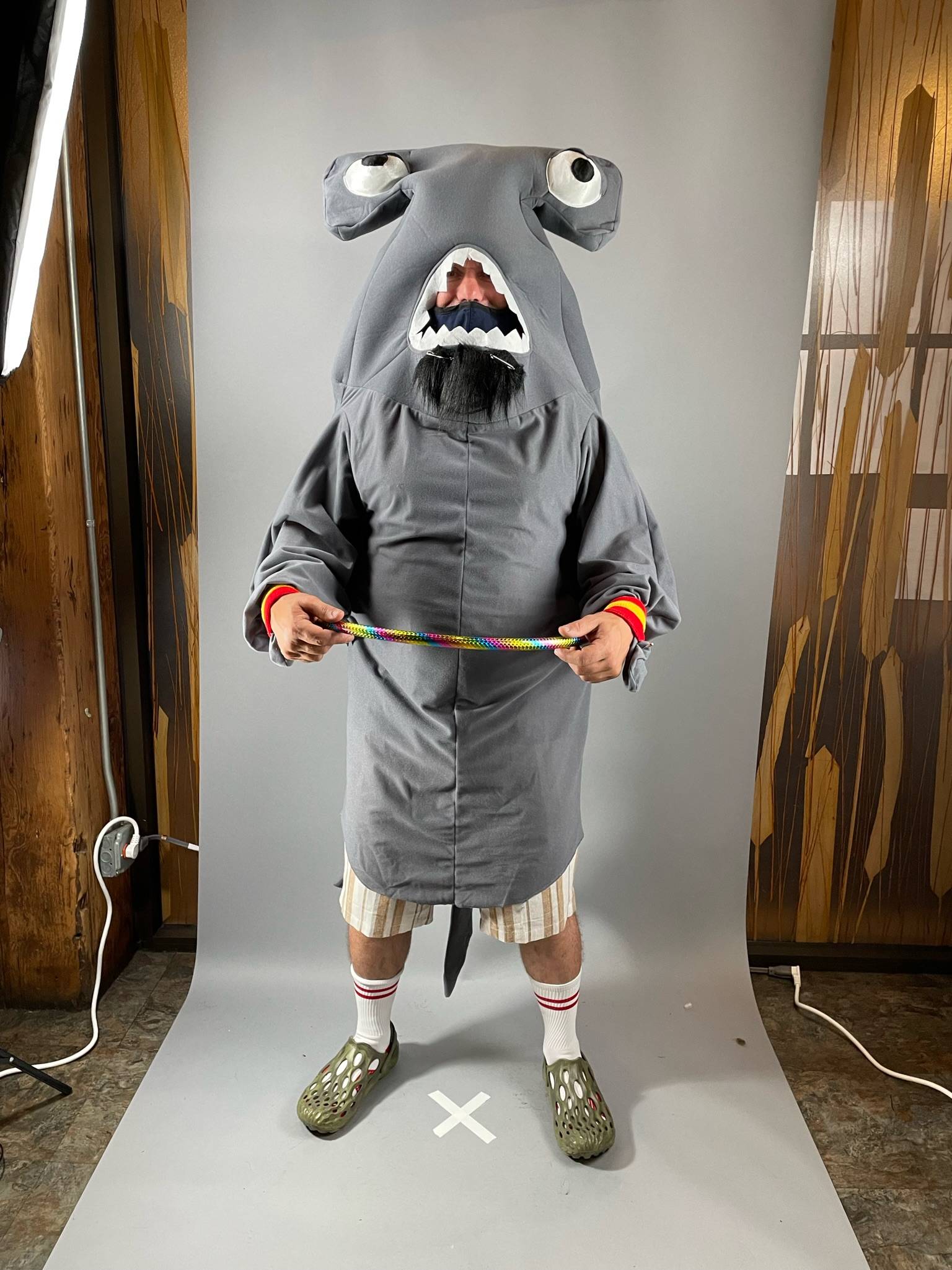 Images courtesy of Cristina Spiridakis.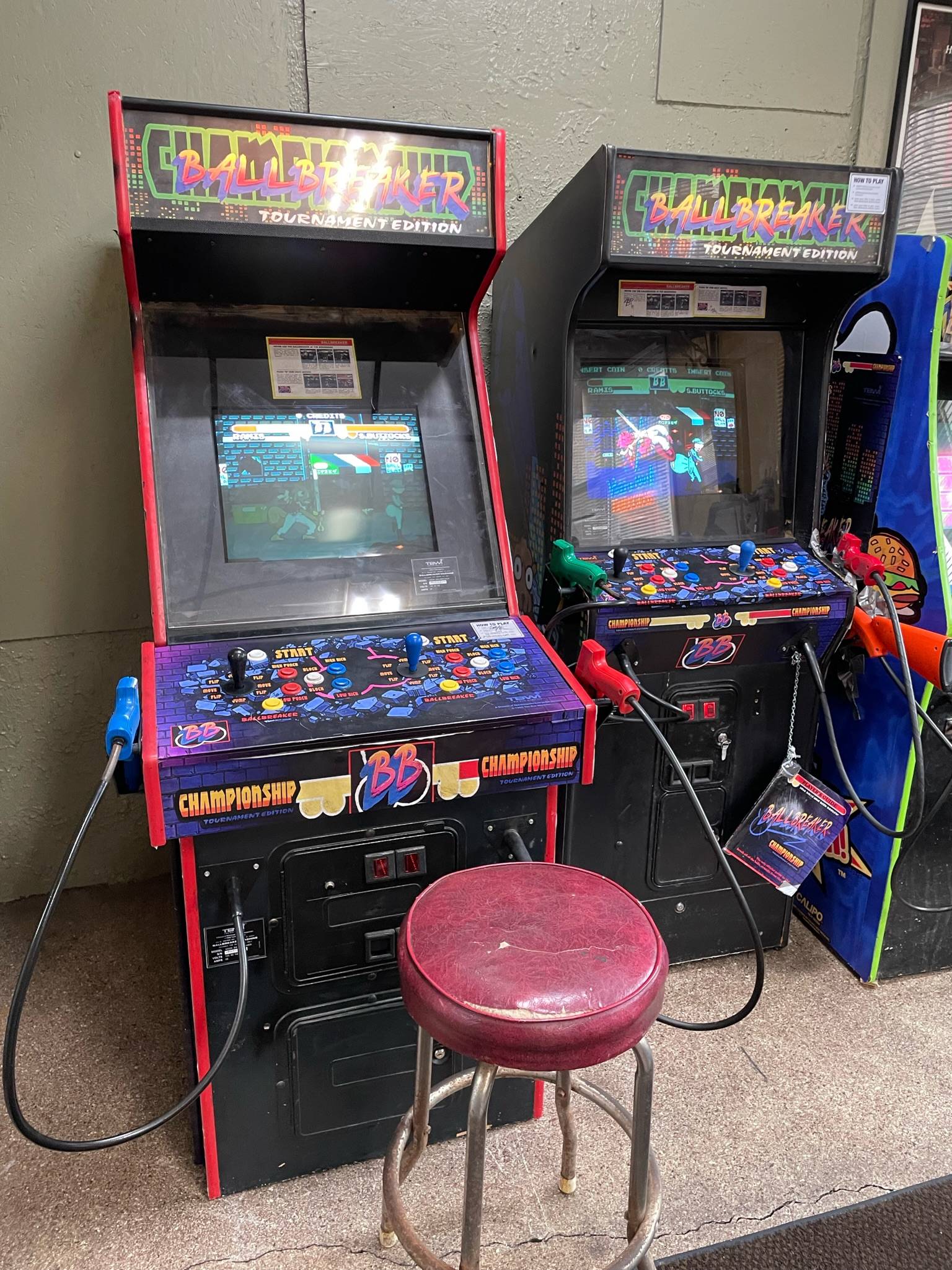 Images courtesy of Cristina Spiridakis.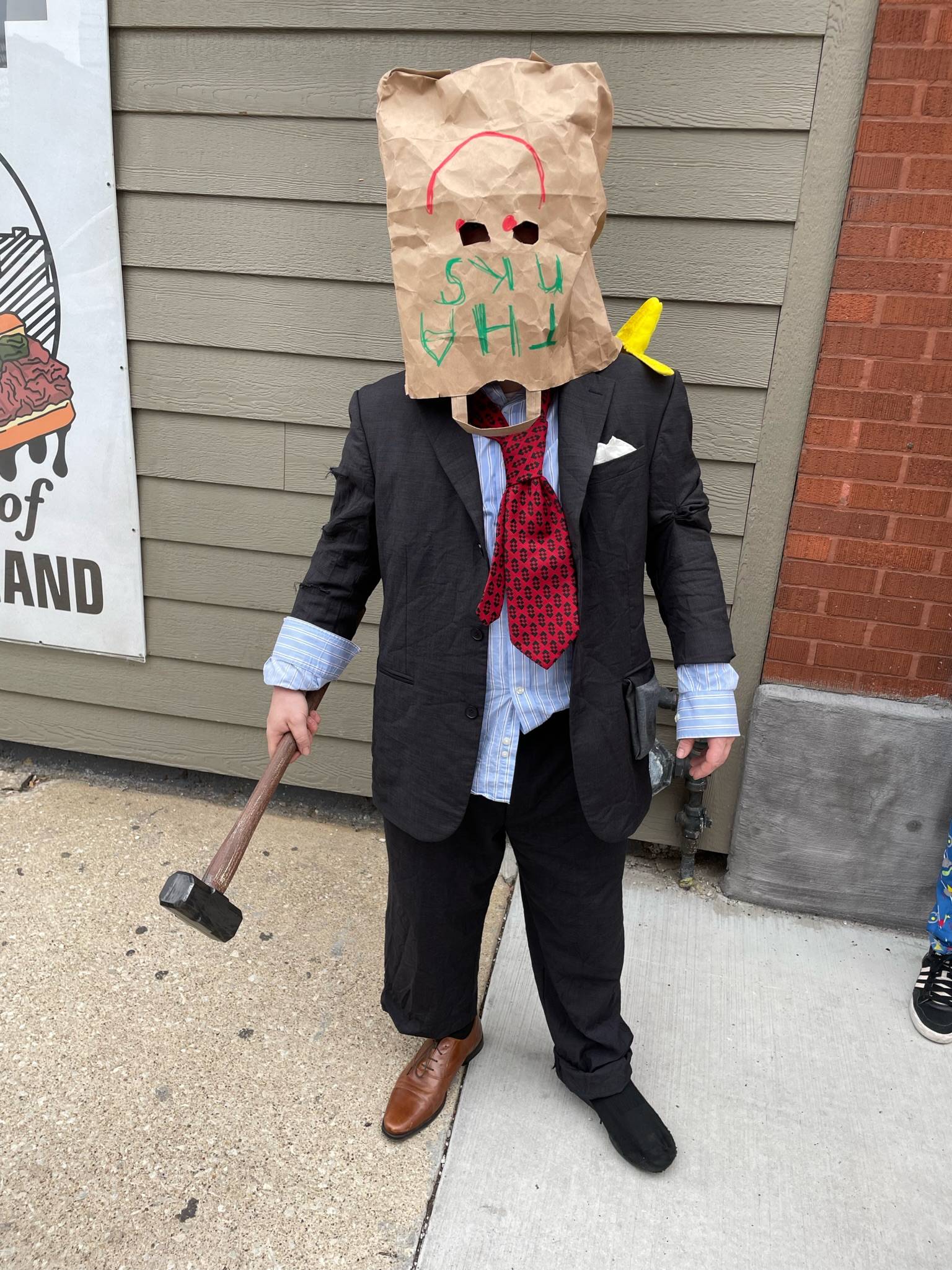 Images courtesy of Cristina Spiridakis.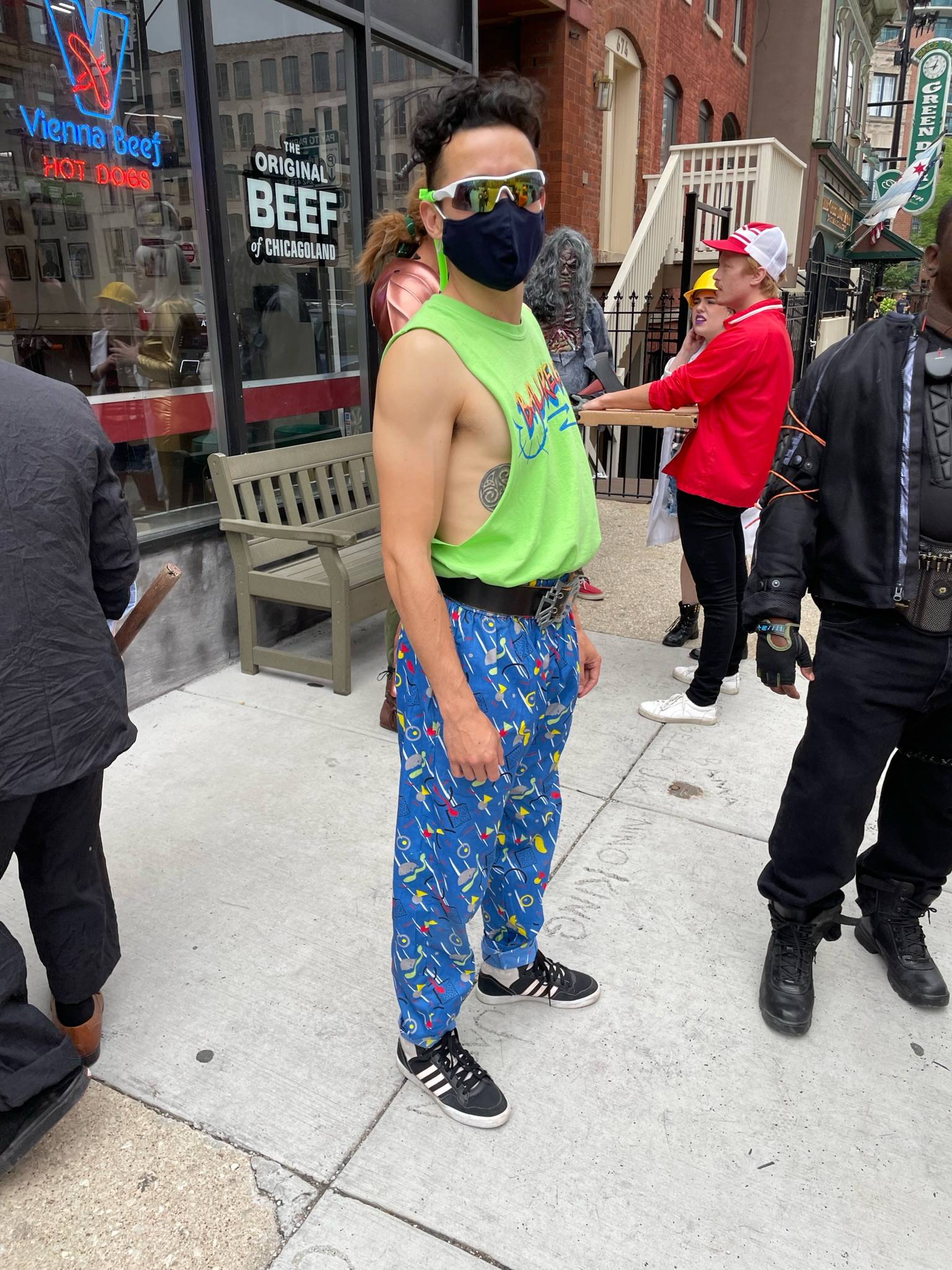 Images courtesy of Cristina Spiridakis.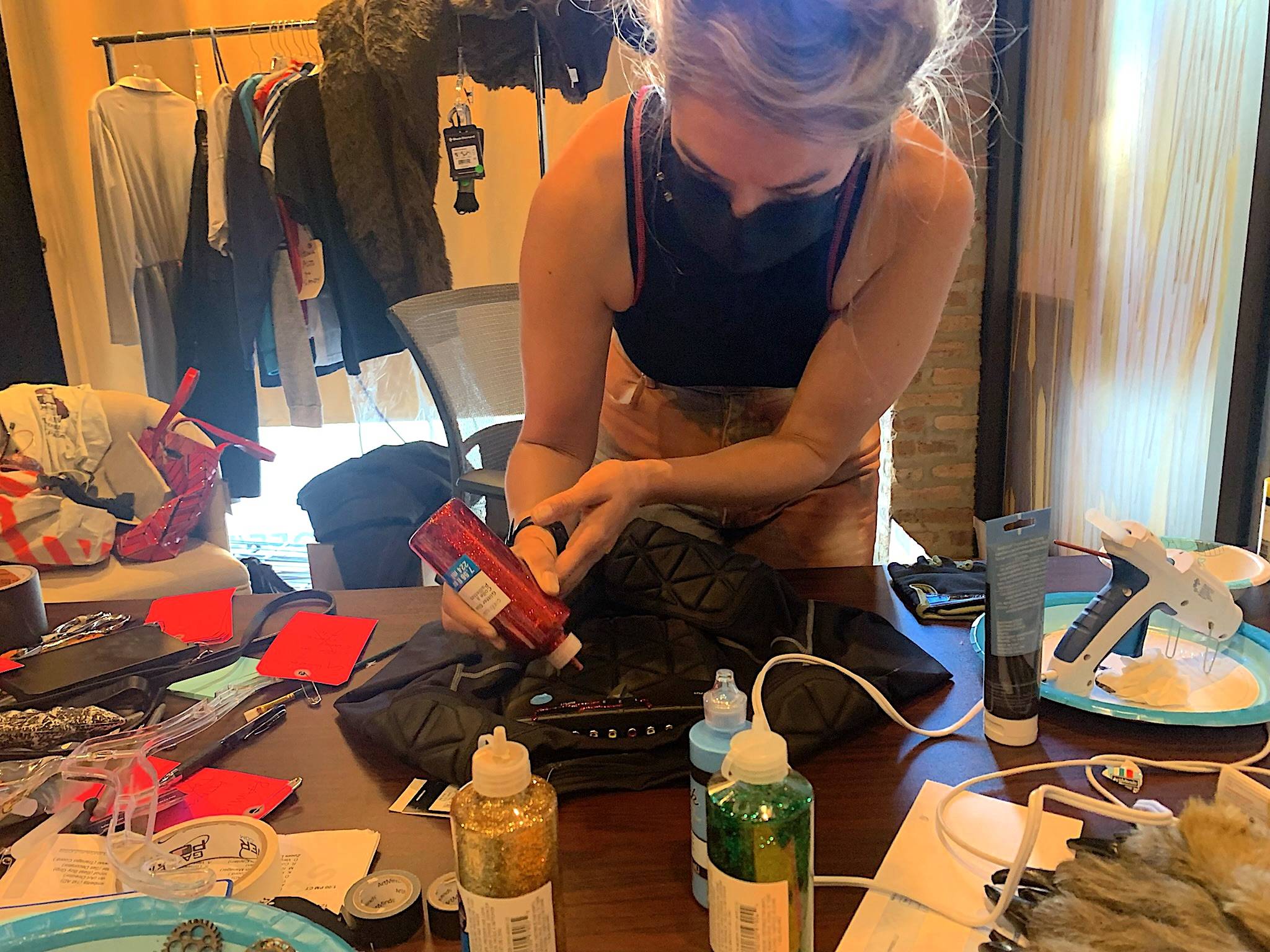 Images courtesy of Cristina Spiridakis.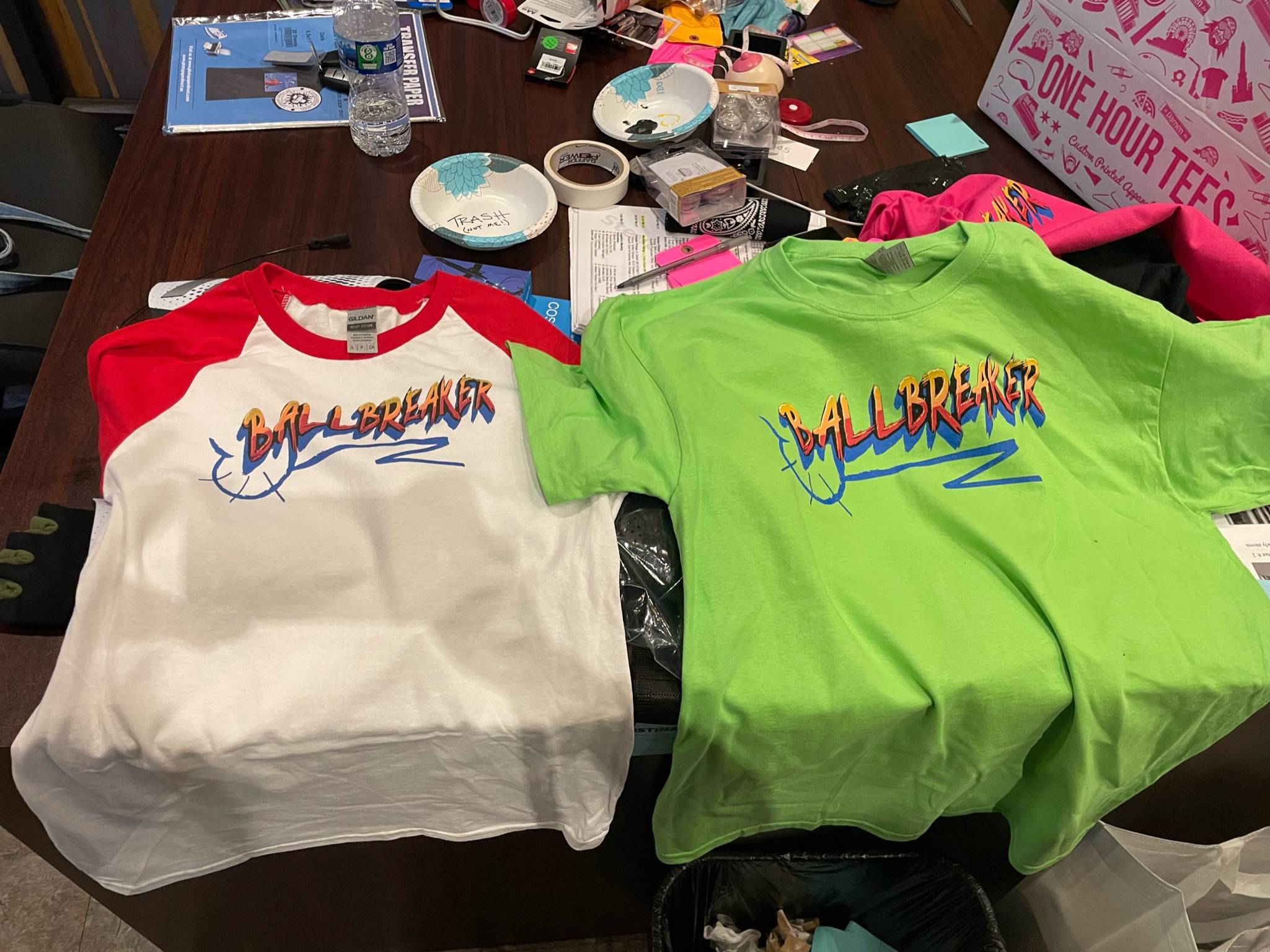 Images courtesy of Cristina Spiridakis.
Spiridakis: The Bear in the opening scene of the pilot is a costume we built that CGI then augmented. The body was made out of hand-dyed IKEA rugs – an idea I borrowed from Michele Clapton, genius designer for Game of Thrones.
All but the head were handmade and sewn by Austin Pettinger, our ager/dyer on the pilot and Head Tailor for the series.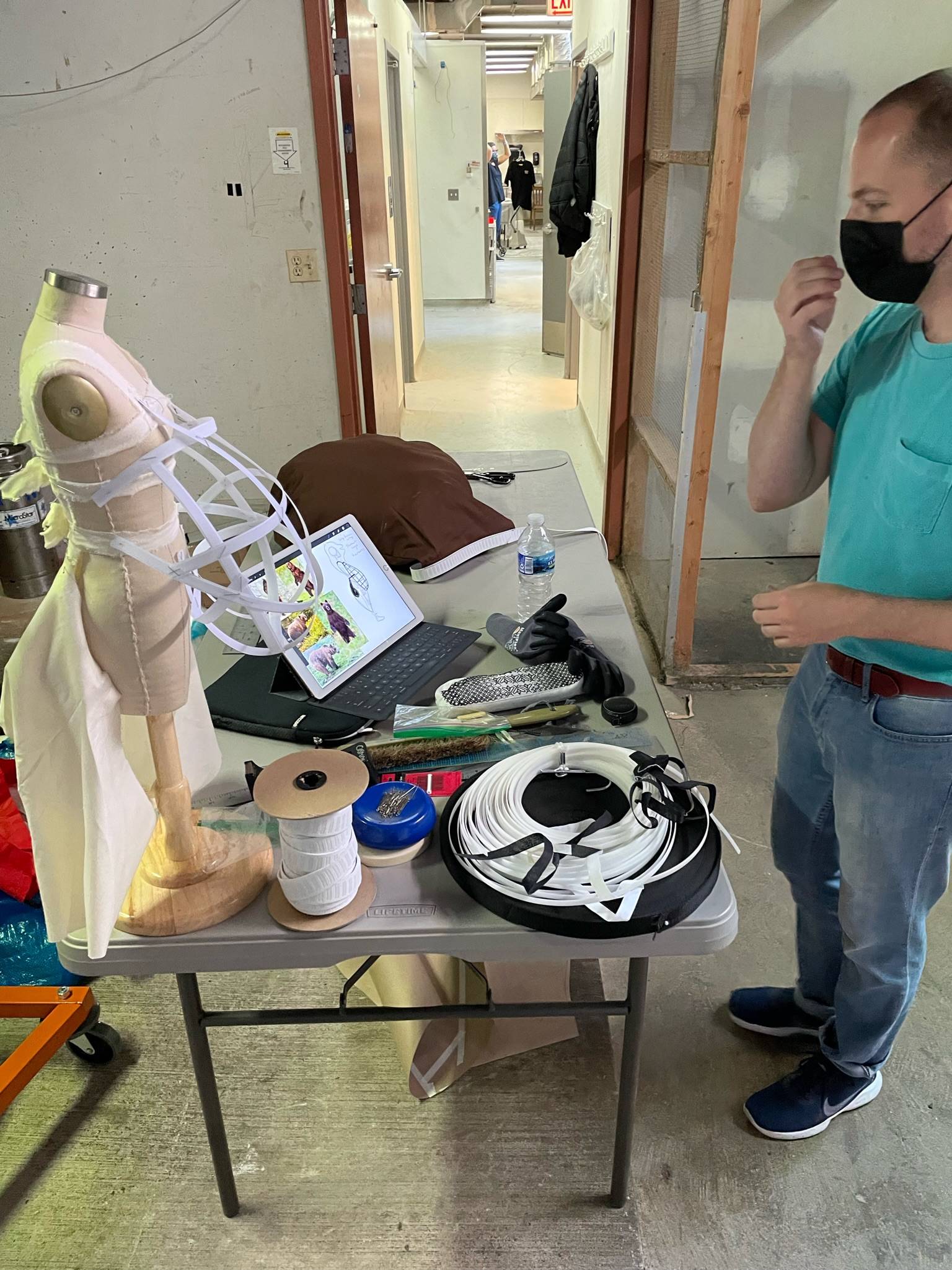 Images courtesy of Cristina Spiridakis.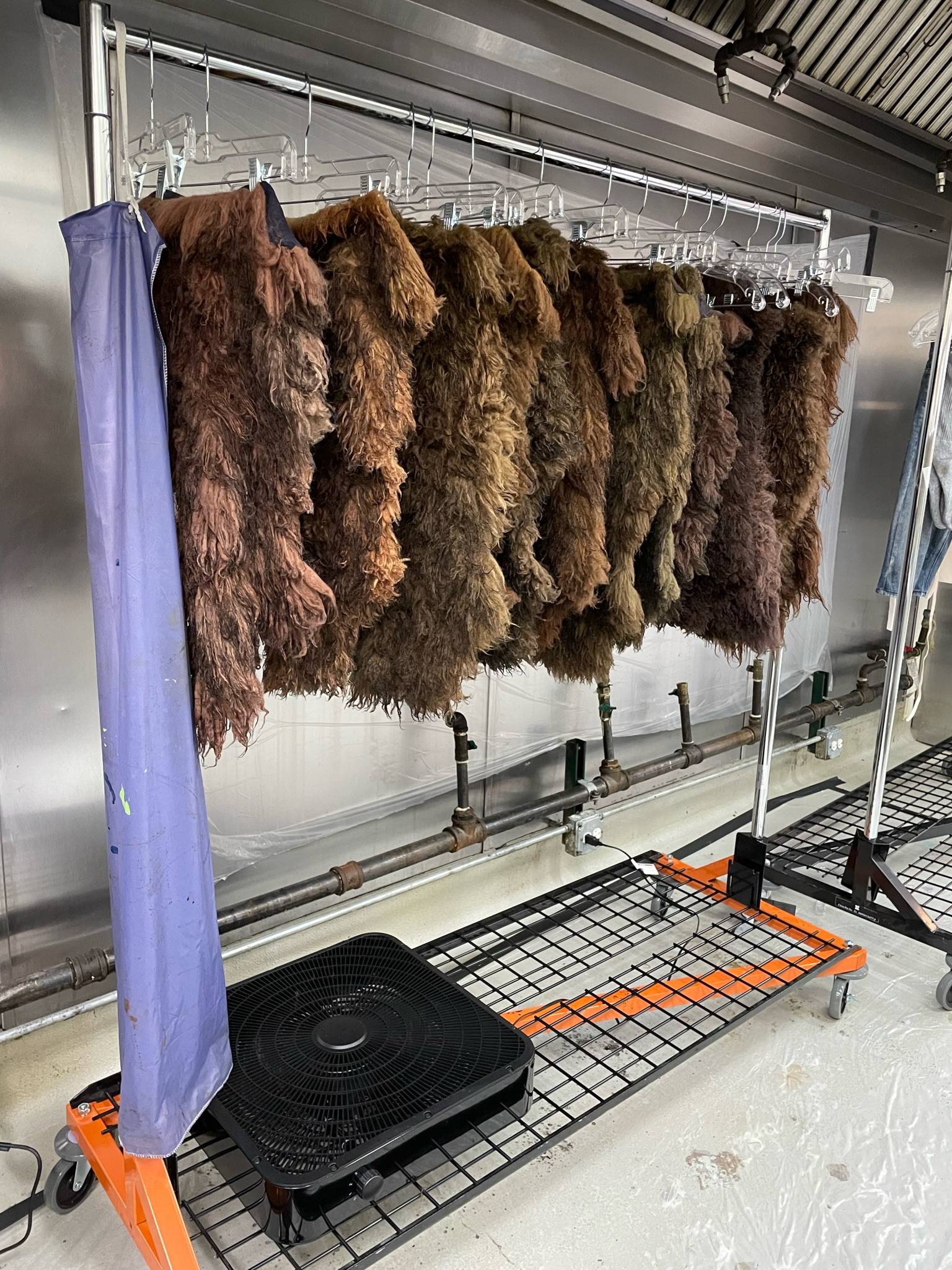 Images courtesy of Cristina Spiridakis.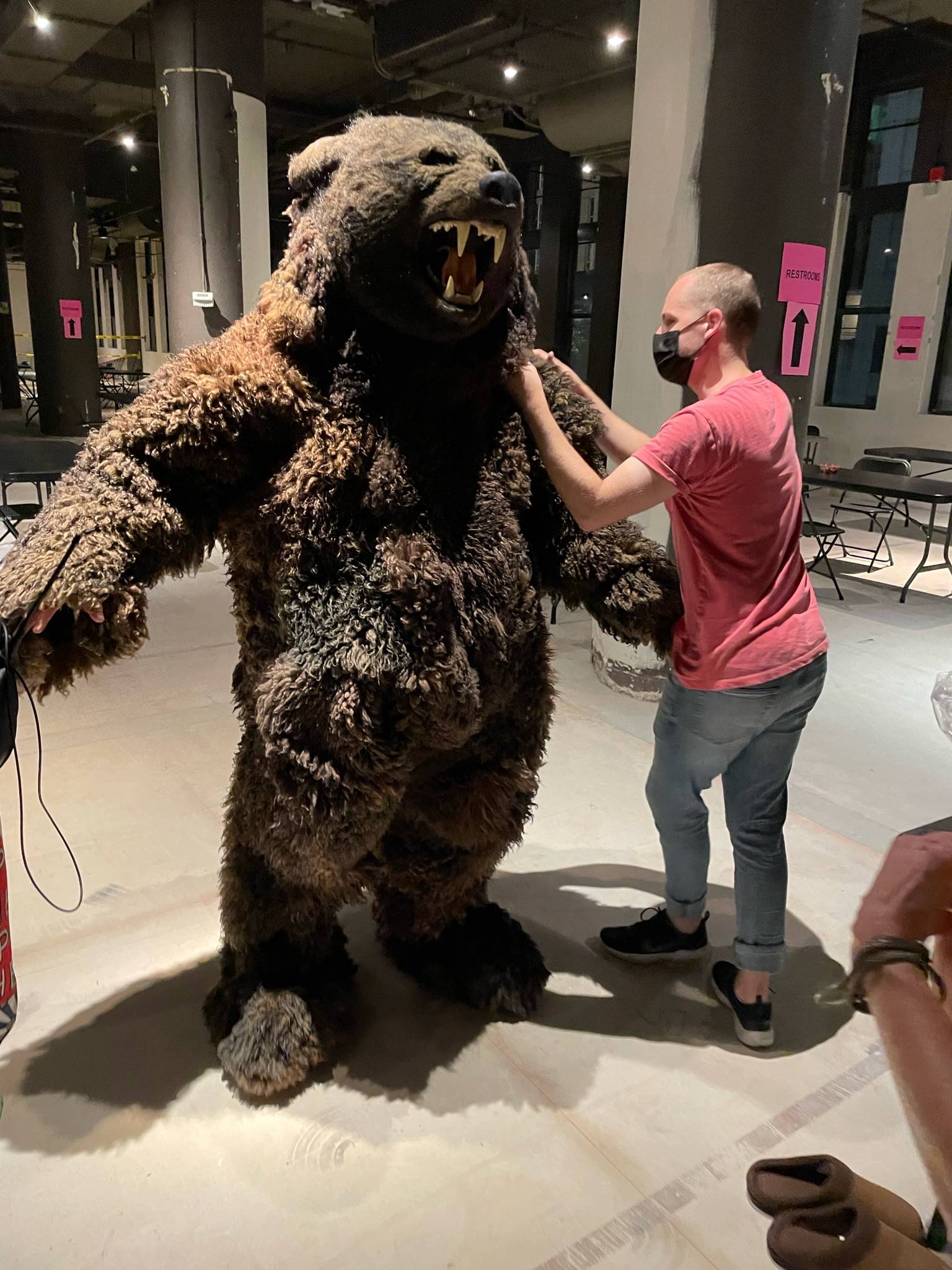 Images courtesy of Cristina Spiridakis.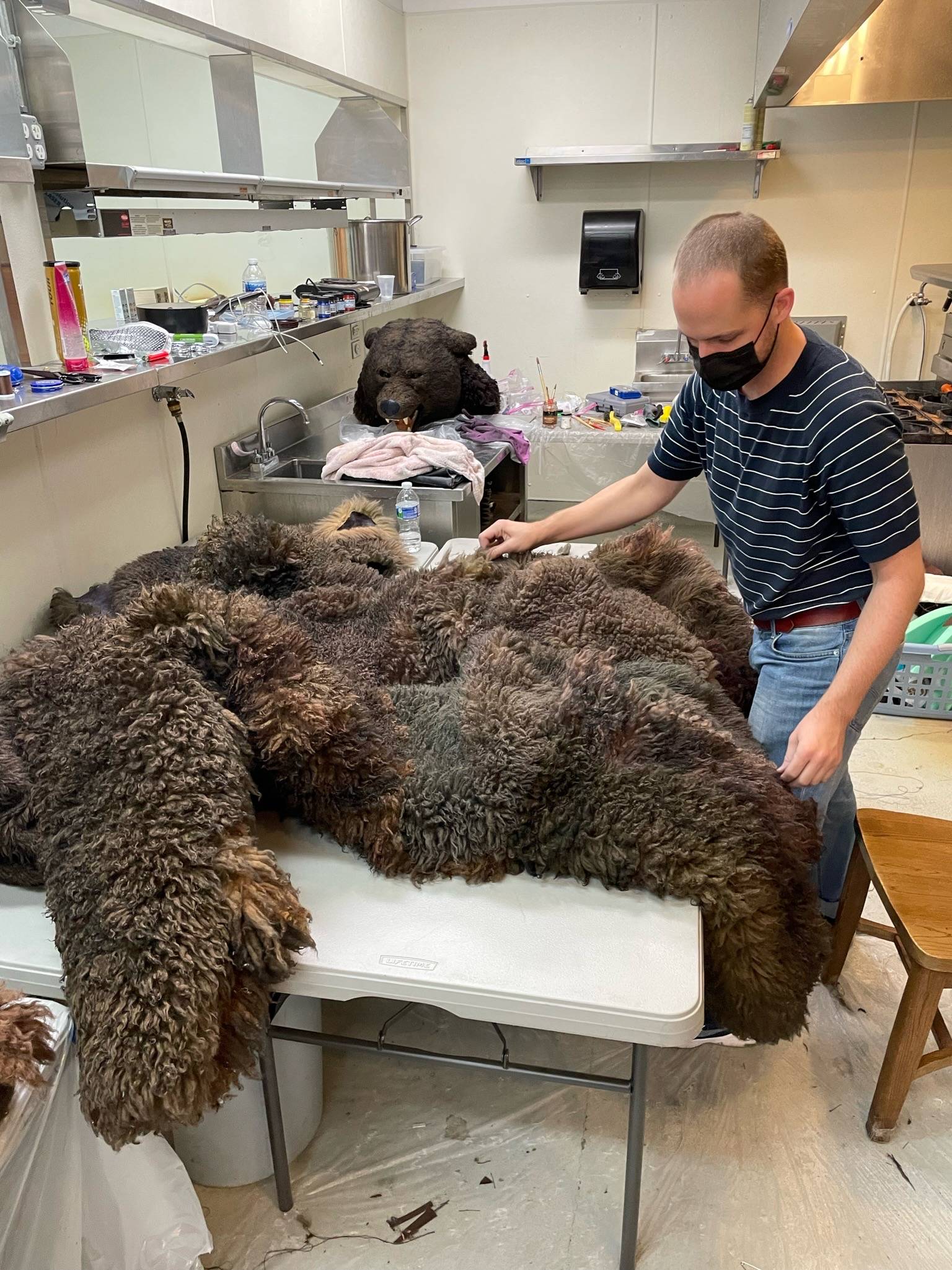 Images courtesy of Cristina Spiridakis.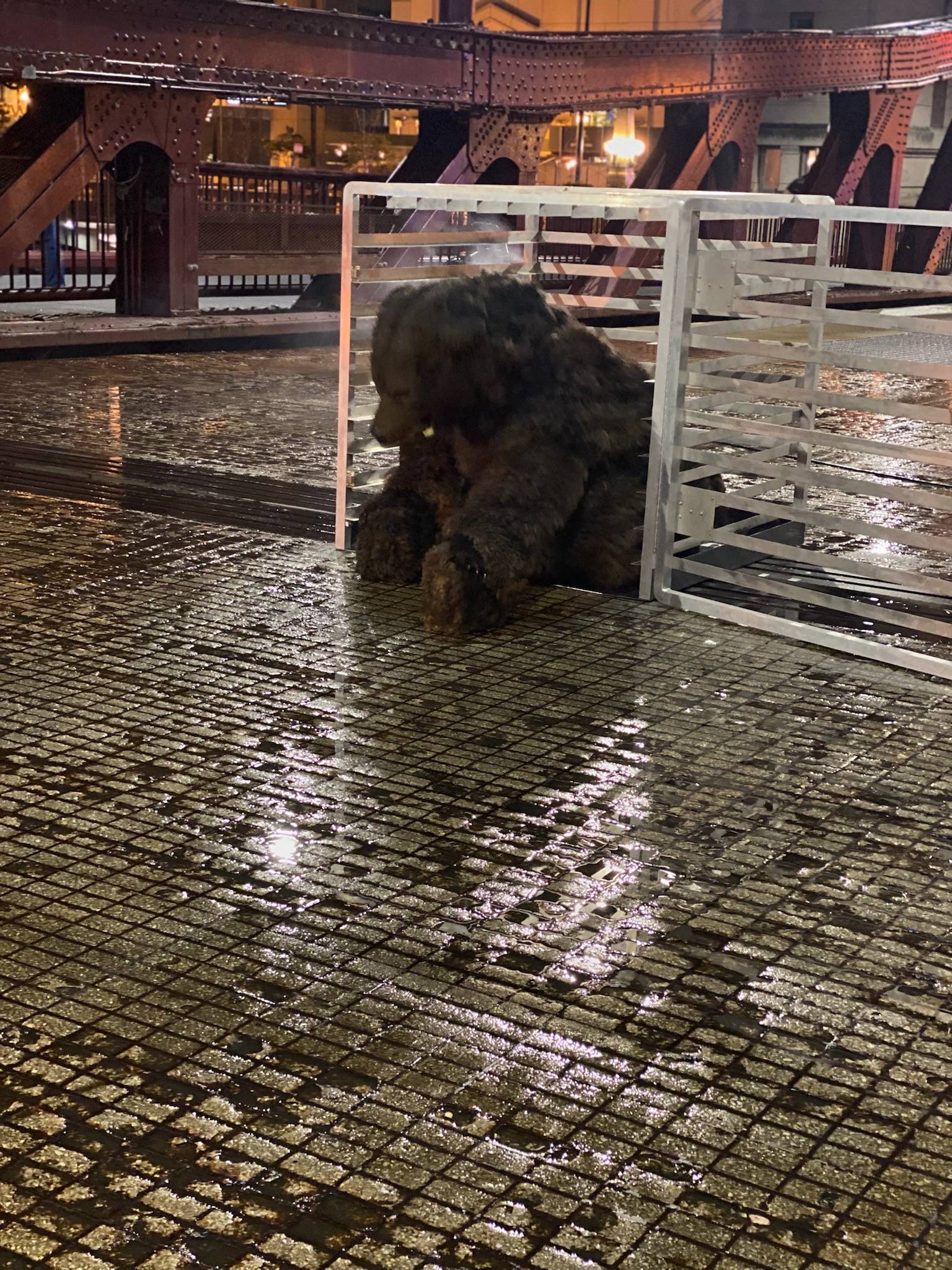 Images courtesy of Cristina Spiridakis.
Spiridakis: This is really the best advice we can give you. Being a production assistant is hard work. It's physical labor. It's long hours. It's very difficult. On the surface, it's bullshit. You get out of it what you put into it. Ask your designer or your coordinator, "Can I read the scripts?" Pay attention to where the shoppers are shopping. When we buy things, they write down every single thing. Form the relationships with the vendors.
I would also say take a chance. The summer before my senior year in college, I read an article in Vogue about a woman who was a stylist. I called Vogue and they gave me her home phone number. I'm not telling everybody to quit their f**king job, I'm just saying take a chance. If it's something that feels good and something that you want to do. We do more by 10 AM than most people accomplish by 5. You move mountains. You bend time. It's special. And it's magic. It's not glamorous. We all have busted feet and busted shoulders. You schlep. If it's what you love, you will love it forever.
Wheeler: Form relationships with your designers! The reason why I became assistant costume designer is because I made a really good relationship by working really hard as a PA and then a coordinator. Start at the bottom and work your way up. It's so helpful to learn what everyone's job is and what it takes to get the clothes on camera. Starting as a PA is very helpful for that.
Seek: Tell us more about your process and what is important to you in costume design.
Spiridakis: In general, it is a sustainable approach using as much consignment, resale, thrift as possible. And small businesses. 95% of what we used on High Maintenance was vintage. It completely changed the way I design as a costume designer. It's harder, you have to make the extra effort. You also have to be mindful. The thing comes from where it comes from.

Wheeler: When we go to a new place, the most important thing we do is walk around. We go into different shops and introduce ourselves. We want to make these relationships. It's so much more interesting to shop at these places and to get that complexity of character. It has to feel real. That's what really matters. Do you believe this character?
Spiridakis: We create characters. That has always been my most basic way to explain it. It's very contemporary, reality-based street clothes. You do a disservice to your project if you do not talk with your actors, if you do not consult them. They just want to be heard. I think that's the feedback we got back the most. "No one ever asks me, 'Do I feel good in this?'" That's what I'd love to leave with.
Wheeler: What do you feel good in? You can tell from the photos. You can tell from how you wear it. That's so important. One of our favorite compliments is when people tell us, "This is the most fun fitting I've ever had! I love this look."
Spiridakis: The Bear shot seven episodes in thirty-two days. For anybody who learns that and has made a television show, their eyes will be like this big. Ultimately, I was the costume designer on the pilot. Courtney was the costume designer on episodes 2-8. I don't think co-costume designer in the future is out of the question because frankly, I don't know how long I can go without you
Wheeler: It was a perfect show to do. Everyone knows it's a great show to watch, but it's also a great show to make. We've lucked out to have really awesome showrunners. It was an amazing experience. If anyone wants to hire both of us at the same time, we'd love that.
Spiridakis: I'm very excited to watch it and see what Courtney does with the show. It's a new story. You get to take season 2 and it's all yours. I will miss you, but I'm excited to watch.
Wheeler: I love how she's saying she'll miss me but we'll definitely see each other in a few days.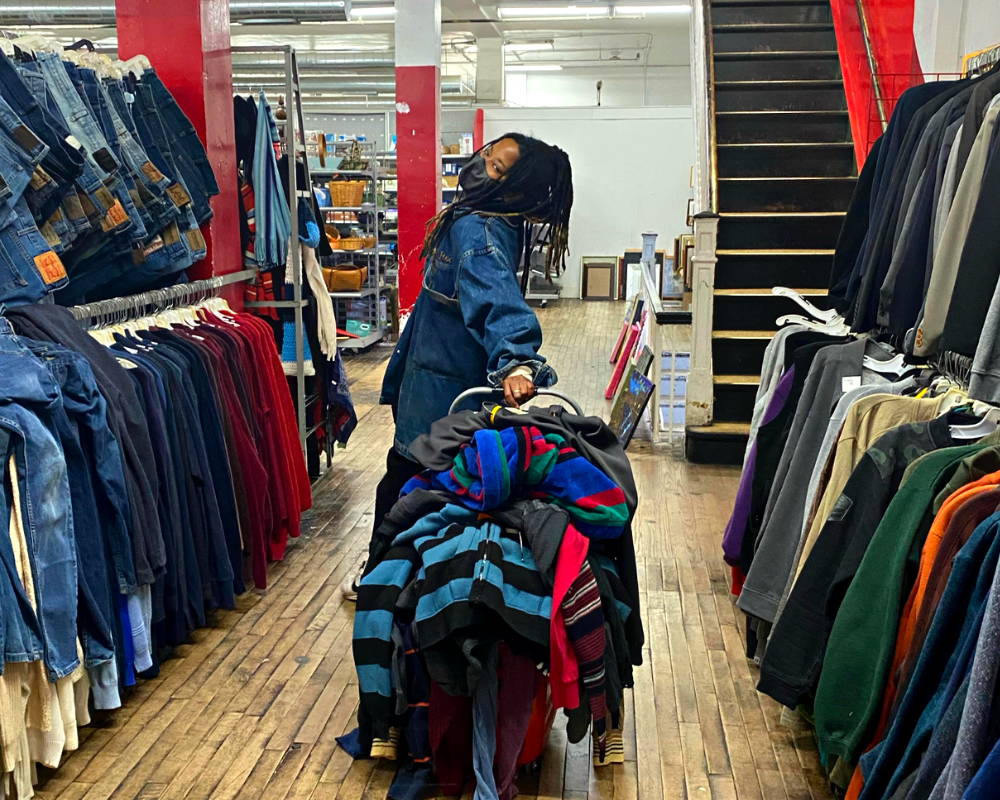 Image courtesy of Courtney Wheeler.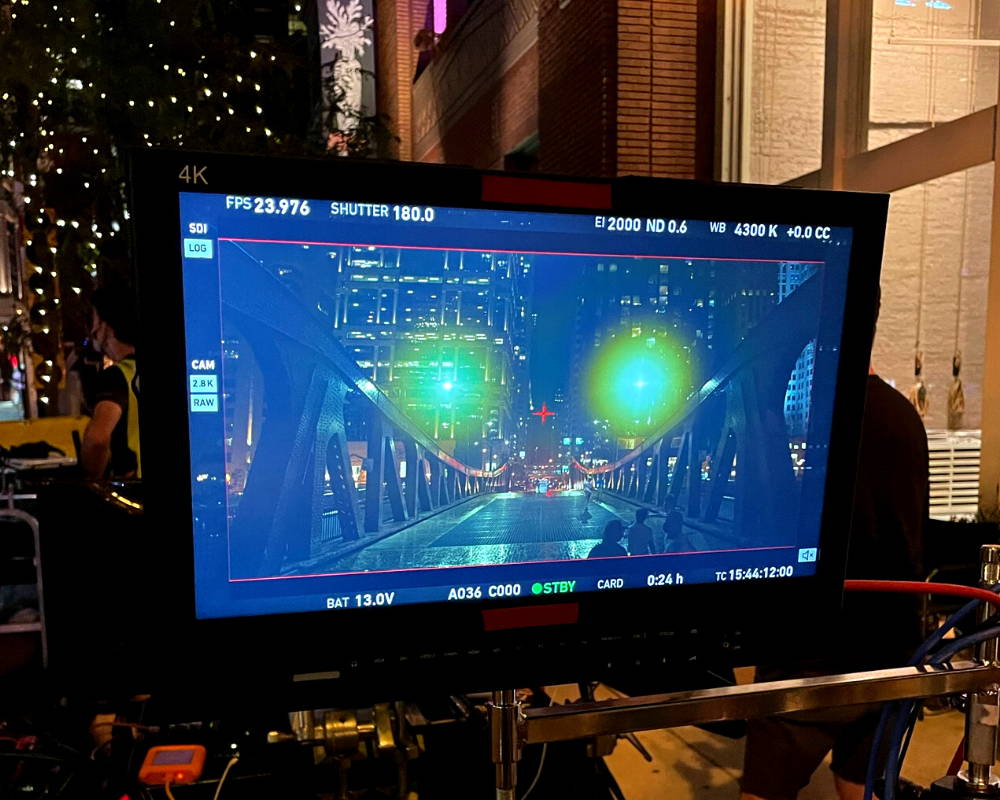 Image courtesy of Cristina Spiridakis.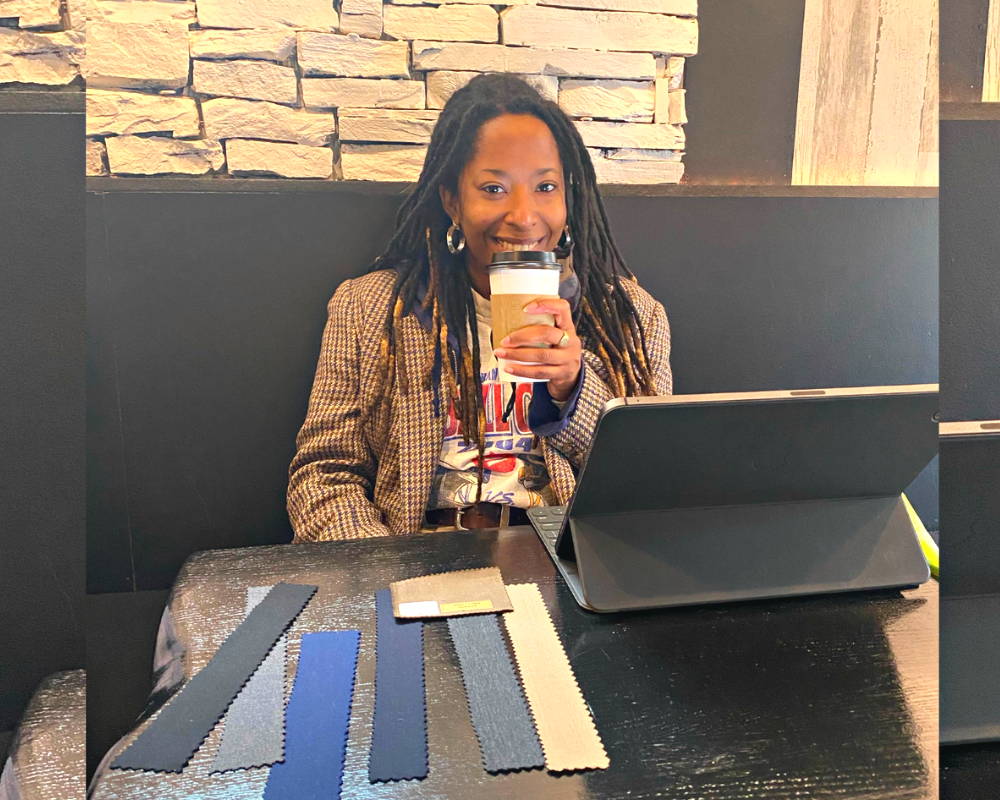 Image courtesy of Courtney Wheeler.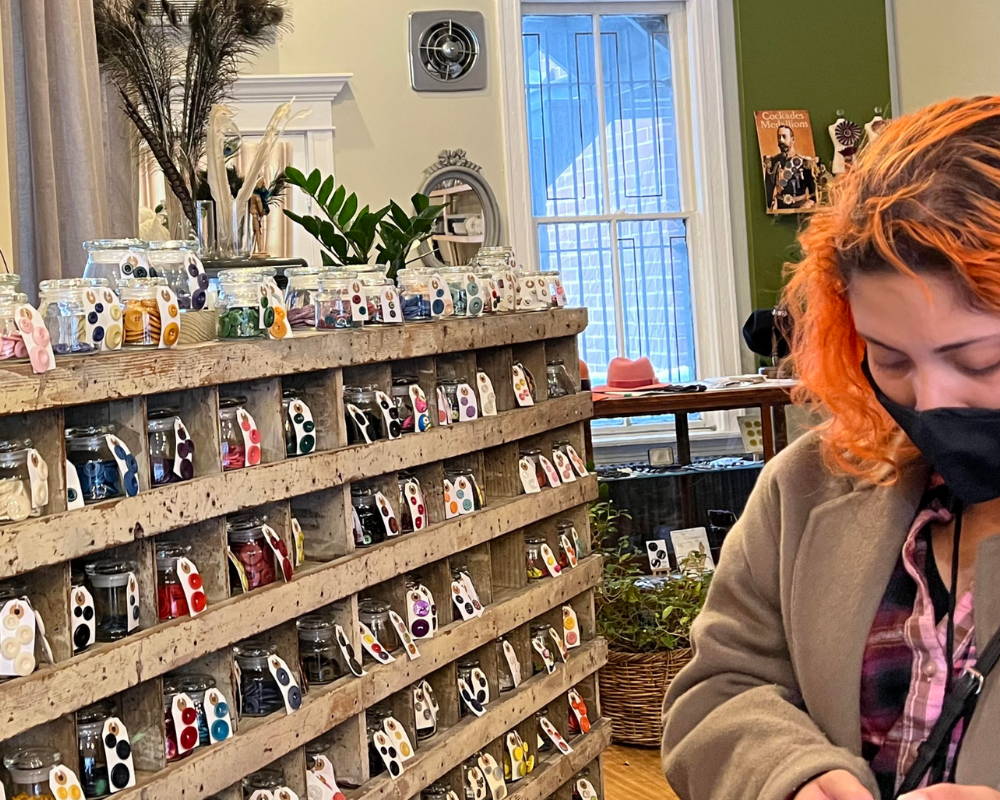 Image courtesy of Courtney Wheeler.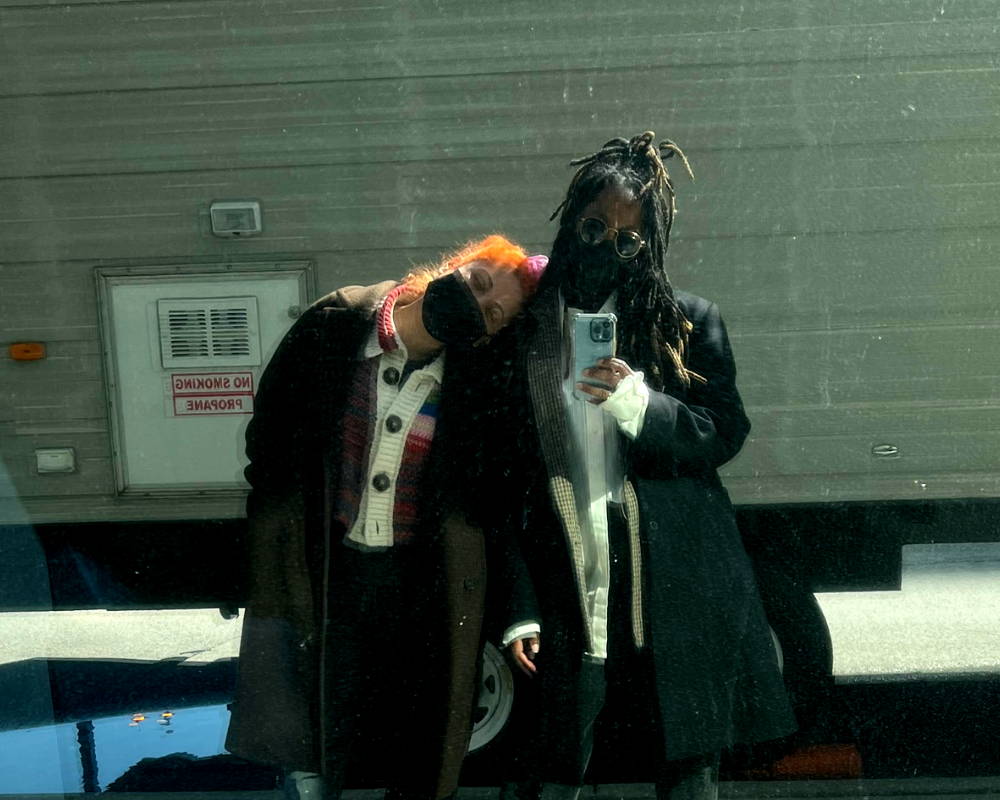 Image courtesy of Courtney Wheeler.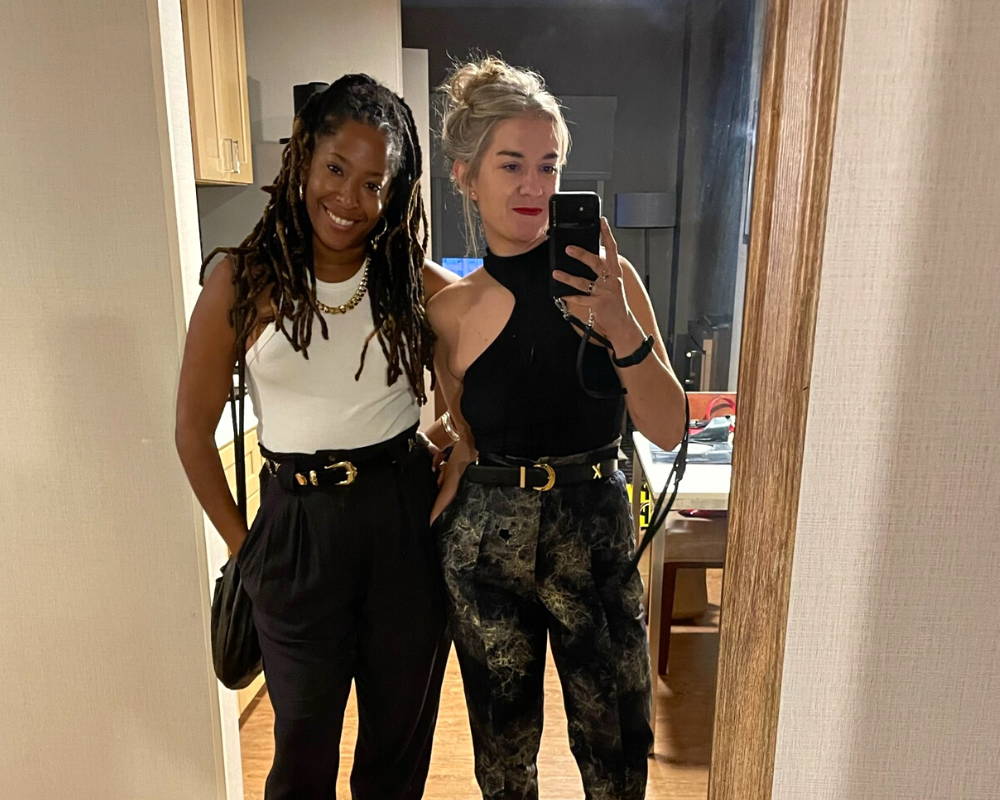 Image courtesy of Cristina Spiridakis.
CHICAGO
HIT LIST
SPECIAL SPOTS THE BEAR
COSTUMES WOULDN'T BE
HERE WITHOUT:
Vintage
Carlos of Knee Deep Vintage
Natasha of Wild Prairie
Richard of Richard's Fabulous Finds

Bob of Trash Vintage

Pilsen Vintage

Very Best Vintage
The Shudio
Lost Girls
Boutiques
Gemini
Humboldt House
Eskell
Felt
Independence
Asrai Garden
Birdseye Rule
Una Mae's
Streetwear
Round Two Chicago
Saint Alfred
Leaders1354
RSVP Gallery
Joe Freshgoods
& Tiger Workshop (Tiger Workshop has since closed unfortunately)
Luxury / High End Streetwear
Notre
Svrn
Thrift/Second Hand
Village Discount
Crossroads
This interview has been edited for length and clarity.
Kindly note that we are an independent editorial platform NOT affiliated with the networks, titles, or talent featured.
(c) Seek 2022. All rights reserved.